5 Steps to manage your financial wellbeing
The contents provided on this page are for informational purposes only and do not constitute financial advice.
Money and mental health are closely linked and impact your overall financial wellbeing.
A 2022 study Heartward Strategic and Beyond Blue reported that people who experience financial challenges are twice as likely to experience mental health challenges, and vice versa. This means, while finances can be a source of stress, experiencing stress and challenges relating to mental health can also impact how well you are able to manage your finances.
Try these 5 steps for managing your financial wellbeing to build resilience and gain confidence and control when it comes to your money.
Step 1: Set and monitor your budget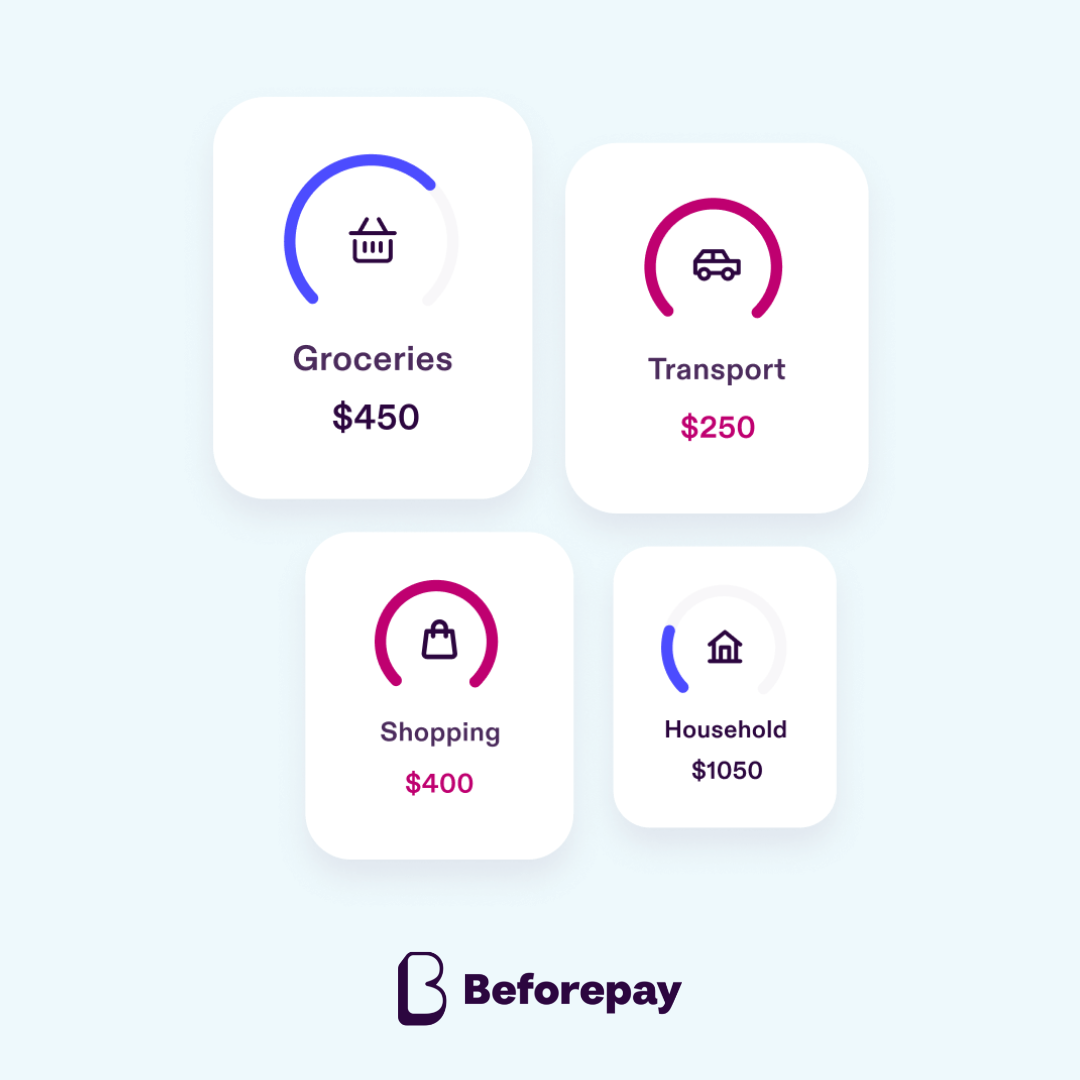 Budgeting on a regular basis helps structure your finances so you can adapt to whatever unexpected situation comes your way.
For instance, if your stove suddenly stops working and you need to call out a technician, you can easily refer to your budget to calculate how much you can spend, without impacting other regular expenses you've already accounted for.
Having visibility over your finances can prevent you from feeling stressed, anxious and overwhelmed when something pops up, and helps you build confidence in making financial decisions.
Things to keep in mind when building your budget
Budget according to your pay cycle to manage your cash flow. Look at your budget in three buckets: what's coming in (your income), what's going out regularly (your expenses e.g. direct debits, monthly bills), and how much wiggle room you have to spend and save based on your income and expenses.

Put a little cash aside every payday for a rainy day. Starting with $50 every payday if you are paid fortnightly could result in you saving $1300 over one year! Consider automatically transferring the funds into a separate savings account every payday so it's easy for you to track and maintain.

Try the budgeting tool in the Beforepay app. Create your own or let us suggest a budget based on your income and expenses. You can also see our '4 steps for building a budget' for tips.
Step 2: Talk to your employer
Financial stress has been linked to low productivity and absenteeism in the workplace.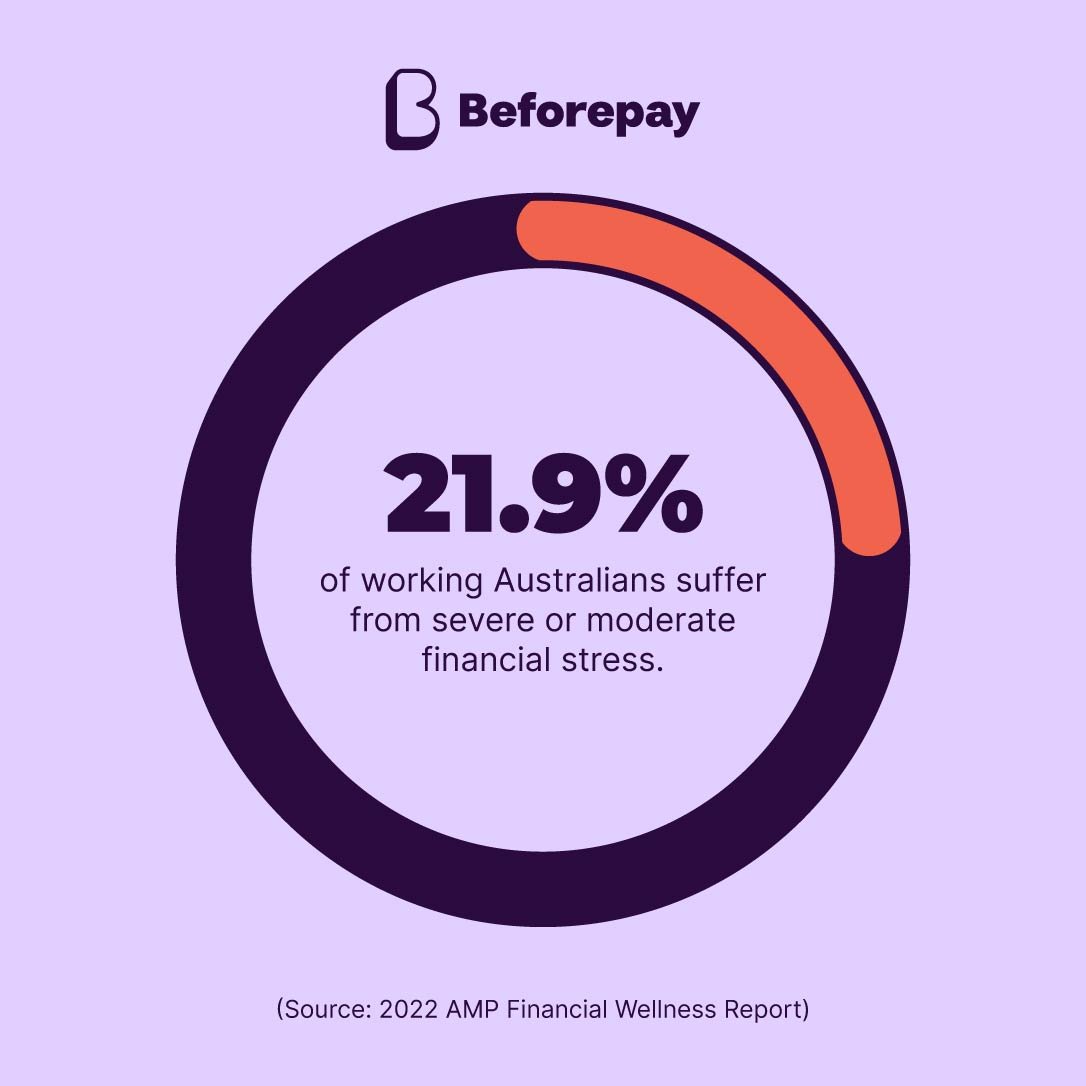 AMP has been researching financial wellness since 2014 and their latest 2022 AMP Financial Wellness Report revealed that 21.9% of working Australians suffer from severe or moderate financial stress. This is estimated to be costing Australia $66.8 billion per annum in lost revenue.
With more organisations starting to focus on providing mental health support in the workplace, particularly following the impact of COVID-19, your employer might be able to offer you various tools and services to help.
Things you can ask your employer about
Ask about an Employee Assistance Program (EAP). You can contact your EAP to discuss any concerns and worries you may have, even if they're not work-related, and determine ways to help manage your wellbeing. This is usually a confidential service offered by your employer through a third-party organisation.

Talk to HR/Payroll to understand more about your tax and superannuation. Understanding your tax and super contributions can equip you with the tools you need to make decisions about your financial security for the future. You could even suggest your employer or employer's superannuation provider make a presentation to help you and your colleagues.

Ask about money-saving employee offers and initiatives. Some organisations might have exclusive employee discounts with certain vendors, while others might have salary packaging options.
Step 3: Pay your bills on time
Missing a bill can impact your mental and financial health because it can lead to the build-up of additional fees and debt, which can cause feelings of stress and anxiety.
Data and analytics provider, illion, surveyed Australian consumers in 2020 to examine how they prioritise and pay their bills and found that 29% of respondents paid at least one bill late in the previous twelve months. Bills that were commonly paid late included mobile phone bills, credit card payments, electricity bills, BNPL accounts and personal loans.
Paying your bills on time can help reduce the stress that can come with the pressure of keeping up with your bills. You'll also benefit in the long run by avoiding falling into a revolving debt spiral with extra charges like late fees and interest that can come with products like credit cards. If you can't afford to pay your bill on time, taking out a pay advance with Beforepay for bills may be a more cost-effective and less risky way to stay on top of your finances.
Things to help you manage your bills
Put a reminder in your calendar 3 days before each bill is due. This keeps you on track, gives you time to plan if you need to access extra cash, and ensure your payment goes through on time. In some cases it can take 2-3 business days for payments to clear.

Use your emergency fund as a back-up option when needed. This is where budgeting and putting a little cash aside each payday will pay off by giving you access to extra cash when you need it. You can also Cash Out up to $2000 for a fixed 5% fee with Beforepay (subject to eligibility) to tide you over when you need a cash boost.

Talk to your service provider. Speak to your service provider to make sure they are the most cost-effective option for your personal situation. You might also be able to ask about an extension, payment plan or hardship arrangement if you are unable to meet your repayments.

For electricity, gas and water bills, you can also ask your provider about utility grants and concessions available in your state. The National Debt Helpline has a list of the relevant government websites for each state here.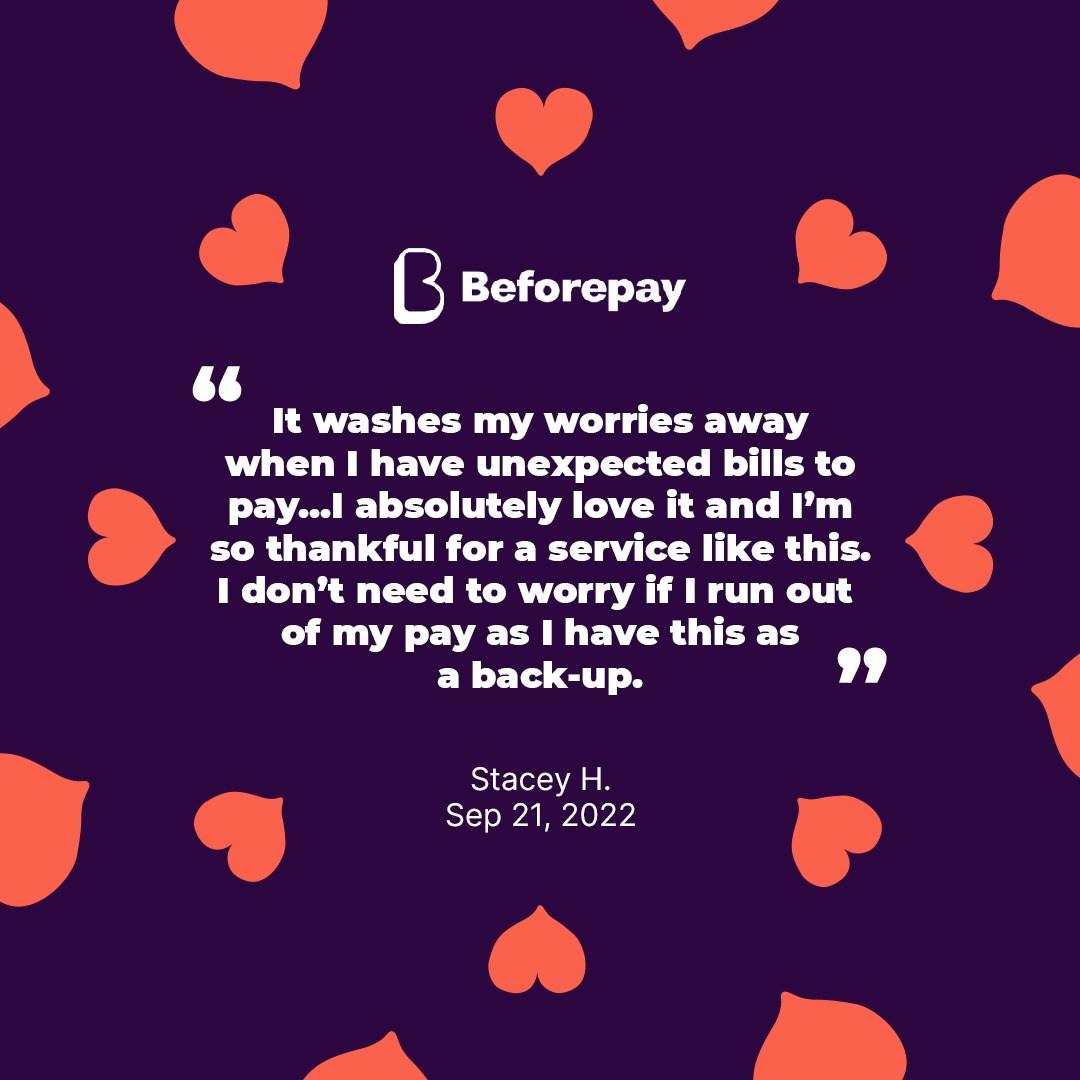 Step 4: Set healthy habits
When you're feeling stressed, anxious or overwhelmed it can be easy to slip into unproductive routines that only worsen the negative impact on your mental and financial health.
For instance, when Heartward Strategic and Beyond Blue surveyed Australians for their 2022 Money and mental health study, one respondent shared how she developed negative financial habits to cope with mental health challenges:
"When I get depressed, I'm more likely to go on [buy now pay later service] and buy things that are just going to bring me some temporary enjoyment."

- Young person, 2022 Money and mental health social research report, Beyond Blue & Heartward Strategic
Finding healthy habits that work for you can help you manage your mental health. In the long-run, it can also support your financial wellbeing by avoiding the temptation of financial vices that can lead to revolving debt.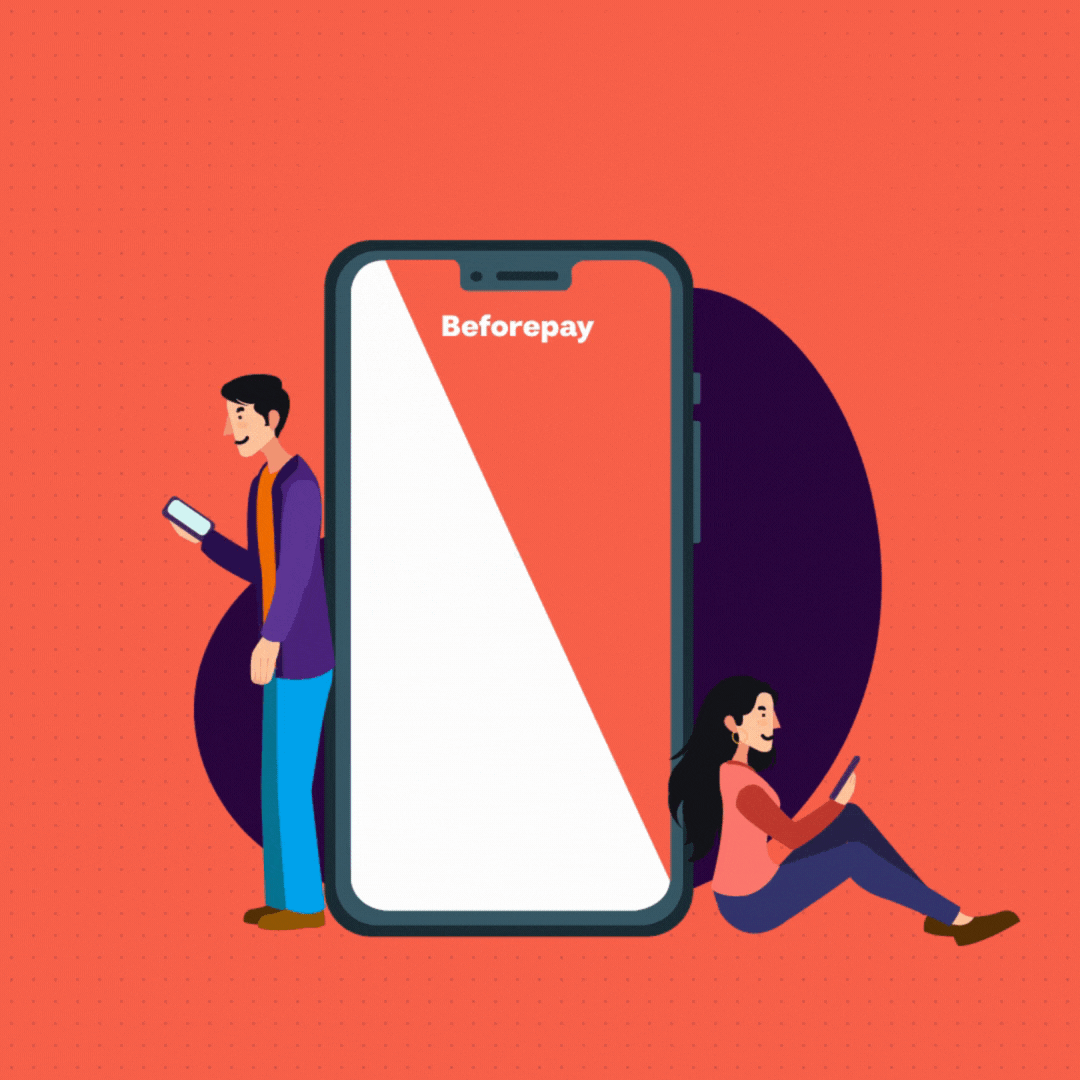 Healthy habits you can try
Take a walk. Walking is a great stress-reliever, helping you clear your mind and get some fresh air, while also keeping you healthy.

Cook or meal prep. The next time you have cravings to eat out or order in, consider whipping up something in the kitchen instead. You'll save money and be much better off with a healthier, home-made option!



Call a friend or family member. Reminding yourself to call a friend or family member when you're feeling down can help you feel connected and supported. Talking to someone about how you're feeling can also help you land on the next steps for managing your concerns and wellbeing.
Step 5: Reach out for support
Leaving financial stress unaddressed can impact your financial and mental health, as well as your relationships with those around you.
According to Lifeline Australia, some signs and symptoms of financial stress to look out for include:
Arguing with people close to you about money.
Withdrawing from others.
Experiencing feelings of guilt about spending money on non-essential items.
Low energy and difficulty sleeping.
Headaches and feelings of worry and/or anxiety.
Increasing debt on credit cards or loans.
If you notice that you or someone you know are experiencing any of the above, it's important not to isolate yourself and to reach out for support. Doing this will help you identify the appropriate steps to take to manage your finances and improve your overall wellbeing.
People and places you can reach out to
Someone you trust. This can be your family, friends, work colleagues or a member of a community group you belong to. Opening up about your financial worries and concerns can help you feel supported, gain a new perspective and find solutions to help you work on your finances.

Your bank or financial institution. Most have policies in place to support customers experiencing financial hardship and challenges. Discussing your current circumstances can help them work with you to determine your options and help you get on top of your finances.

Financial counsellors. Financial counsellors are skilled professionals who can help you take back control of your finances by providing advice about paying your bills, managing debt, negotiating with providers, and other relevant services that might be able to help you.

You can find out more about financial counselling on moneysmart.gov.au or contact the National Debt Helpline via their website ndh.org.au or phone 1800 007 007.
---

Disclaimer: Beforepay Group Ltd, ABN: 63 6933 925 505. Beforepay allows eligible customers to access their pay and provides budgeting tools. Beforepay does not provide financial products, financial advice or credit products. The views provided in this article include factual information and the personal opinions of relevant Beforepay staff and do not constitute financial advice. Beforepay and its related bodies corporate make no representation or warranty, express or implied, as to the accuracy, completeness, timeliness or reliability of the contents of this blog post and do not accept any liability for any loss whatsoever arising from the use of this information. Please read our Terms of Service carefully before deciding whether to use any of our services.