Tips for navigating job loss and changes
Let's be real, whether you've left, lost or changed your job, it can be overwhelming. To help, we've got some practical tips for working through these changes, from managing your finances to saving.
This month, you also have a chance to win with our giveaway, celebrating a recent Beforepay milestone!
In this edition of the Beforepay Beat:
Regaining control of your financial situation after job loss.

Enter our giveaway for a chance to win $500!

Fun fact: Guess what freelancers and knights from the 1800s have in common!

Money tips: Saving when you're in between jobs.
MONEY TIPS

Navigating job loss or changes in your employment
If you've lost your job or have recently experienced changes in your employment, it can feel overwhelming, but you're not alone. According to a recent ABS report, during the year ending February 2023, 2.3 million Australians left or lost a job.
While many people are facing unexpected job changes, staying flexible and organised can help you feel confident and prepared to work through any changes job changes you might face.
Here are 5 steps you can use as a guide to help you navigate job changes:
Assess your savings.

Organise your financial obligations, like bills, to stay on top of your payments.

Review and adjust your budget to align to your current financial situation.

Explore income opportunities.

Seek support from someone you trust or services that can help.
---



FUN FACT
The idea of freelancing dates back to knights in the 1800s!
(Source)
When freelance first came into English in the early 1800s, it was used to refer to a mediaeval mercenary who was not committed to any specific lord or kingdom, and fought for whichever nation or person paid them the most.
This is similar to freelancers today who aren't tied to a single employer!
---
MONEY TIPS
Where to find creative ways to save money
As you navigate job loss and changes in your career, finding creative ways to save money could also help you manage your finances while you get back on track.
Here are some ideas you can consider!
Use grocery store loyalty programs and coupons.
Take advantage of loyalty programs offered by supermarkets to maximise your savings.


Explore cost-effective transportation options.
Consider alternatives to driving, such as walking, biking, or public transport.


Compare and Save
Consider using the Beforepay Compare and Save tool to see if you can save extra money by switching to another utility provider.


Look for budget-friendly entertainment


Take advantage of free or discounted events happening in your city.



---

HIGHLIGHT

Win $500 with Beforepay!
We're thrilled to celebrate a major milestone with Beforepay reaching 1 million registered users! We wouldn't be here without the incredible support we've received from you, our Beforepay community.

To say thanks, we're giving one lucky person the chance to win $500!

To enter:
Click on the link below and enter your details.

Increase your chances of winning by inviting your friends to enter and download the Beforepay app.
Entries close at 11:59pm AEST on Wednesday, 9 August, 2023.

Thank you for being a part of our journey, and good luck!
---



INSIGHTS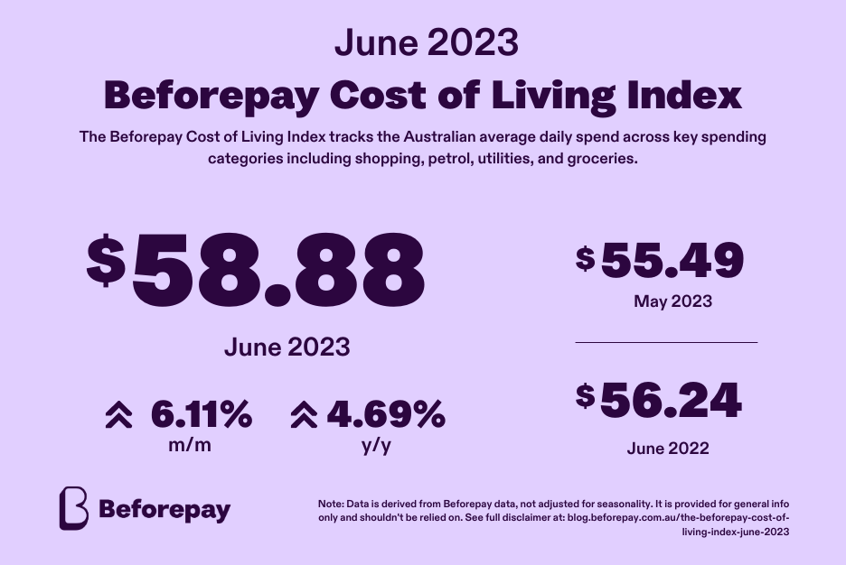 Australians spend more on shopping in June 2023
Daily spending rose by 6.1% last month from $55.49 in May 2023 to $58.88 in June 2023, according to the Beforepay Cost of Living Index.
This was primarily driven by a 26.1% increase in shopping expenses, with the average daily spending up from $6.48 in May 2023 to $8.30 in June 2023.
Daily spending also increased year-on-year, up 4.7% from $56.24 in June 2022.
Other insights:
Durable goods was the second largest category that saw a 9.1% increase from $6.01 in May 2023 to $6.55 in June 2023.





Spending on fitness and health increased moderately by 7.2% from $2.23 in May 2023 to $2.39 in June 2023.





Everyday essentials like groceries went up slightly by 0.6% from $14.62 in May 2023 to $14.70 in June 2023.
---

BEFOREPAY TIP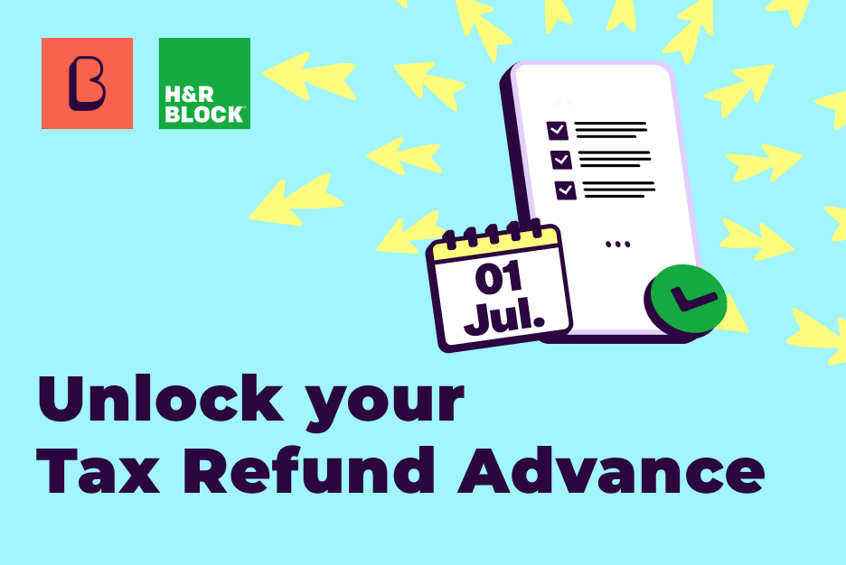 Don't miss out on accessing a portion of your tax refund early!
Don't forget, you could Cash Out up to 50% of your estimated tax refund, up to a maximum of $1000, for a 5% fixed fee, with Tax Refund Advance!
In partnership with H&R Block, we've made it quick and easy for you to access a portion of your tax refund within minutes, not weeks, because your bills and unexpected expenses won't wait for your refund.
Find out how you could unlock your Tax Refund Advance today!
---



WE 🧡 OUR CUSTOMERS