*NEW* Compare and Save with Beforepay
In this edition of The Beforepay Beat:
*NEW* Product Alert: Discover your potential savings on electricity, gas or broadband internet plans with Compare and Save.
Enter our Christmas Giveaway for a chance to win a $500 gift voucher!
Aussies eat how many prawns over Christmas?

Last minute Christmas shopping? Stay on budget with these tips.

Cost of Living insights
NEW AT BEFOREPAY

Introducing Compare and Save with Beforepay
Compare and Save is our new platform making it easy for you to take control of your bills!
With Compare and Save you can compare various electricity, gas or broadband internet plans to see how much you could potentially be saving and find a plan that's right for you.
Once you find a plan that suits you, simply apply to switch and we'll connect you directly with your selected provider to ensure a seamless transition.
With energy prices and the cost of living continuing to rise, now is the perfect time to Compare and Save!
---

MONEY TIPS
Why is now a good time to compare gas and electricity plans?
Beforepay spending insights from 475,000 people showed gas and electricity bills increased by 5.6% when comparing January-October expenses for 2021 v. 2022.
Based on spending between August and October 2022, Australians are currently paying a monthly average of $236.51 on gas and electricity bills. This is up from $225.94 for the same period in 2021.
With electricity prices in Australia expected to increase by an average of 20% this financial year, and a further 30% in 2023-2024, now is a good time to review your gas and electricity plans.
When reviewing your plans, consider things like:

How much are you paying now?

How do your bills compare to previous ones?

How are your bills impacting your overall budget for living expenses?
It's also useful to be aware of late fees, which can cut into your budget. If you're at risk of paying your bill late, it may be a more cost-effective choice to get a pay advance with Beforepay to pay your bills.
---
Australians consume 40% of their annual prawn intake over Christmas.
In 2019 the CSIRO estimated this to be around six million kilograms!
If we consider this with the current price of Tiger Prawns at Woolworths and Aldi, which is around $25/kg, that means Aussies could be spending up to $150 million on prawns alone this festive season!
Preparing prawns and other seafood for Christmas lunch? Stick to your budget by thinking outside the box and shopping smarter.
Sydney Market tour guide, Alex Stollznow, told SBS that customers can consider different cuts or sizes of their favourite species to help manage their expenses.
---

MONEY TIPS


Rising utility prices lead increase in daily spending for October 2022
Research estimates Australians will spend almost $64 billion over the Christmas period this year, which is up 3% from last year!
The good news is, with a little creativity and organisation, you can still make the most of the festive season while staying in control of your finances.
Try these tips to help you stay within your budget and avoid a revolving debt trap this Christmas.
List all the expenses you anticipate
Think of food, gifts, decorations, parties and any travel plans. Then set the maximum amount you can afford to spend, and allocate a budget for each of these spending categories to stay on track.


Substitute brand name ingredients for your Christmas feast
Opt for cost-effective alternatives and compare the cost per unit (e.g. $0.29 per 100g) to find the option that's really going to give you the best bang for your buck.


Avoid or minimise using your credit card.
Create a shopping budget based on your income and savings instead. This makes it easier to track your expenses and spend within your means, while avoiding the risk of falling into a revolving debt trap.


Gift creatively


Think of DIY gifts, buying second-hand or doing a Secret Santa. Spending $50 on one gift instead of $30 each on 10 gifts can see you saving $250!
---

GIVEAWAY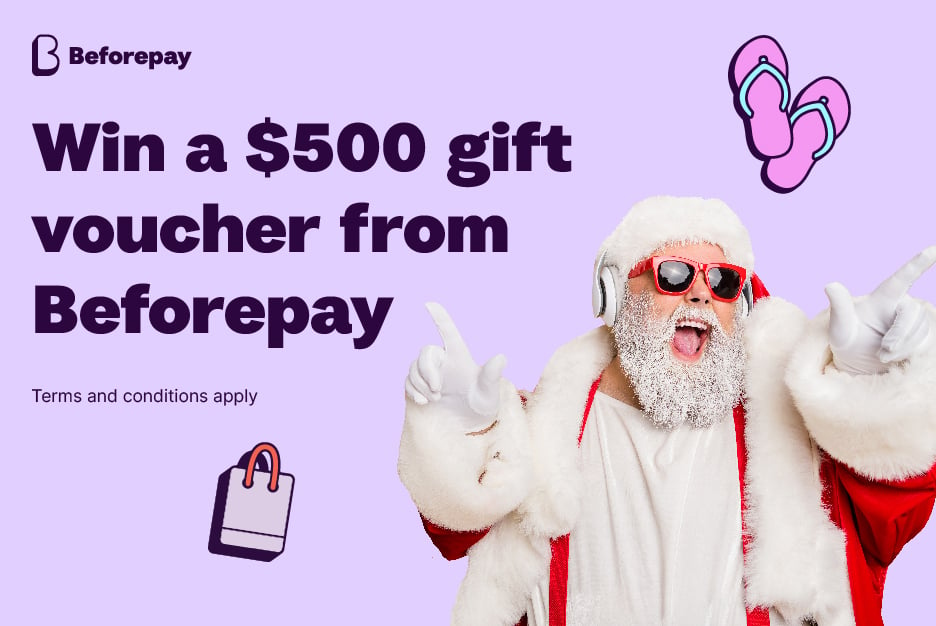 In the spirit of giving, we're spreading the festive cheer and gifting one lucky Beforepay customer the chance to win a $500 gift card!
Whether you need a boost for your last-minute Christmas shopping or could do with some extra cash for your summer getaway, we've got you covered.
To enter the draw, simply submit your details at the link below! You'll also need to download the Beforepay app and create an account to be eligible to win.
For bonus entries, refer your friends or follow us on socials! Just follow the prompts after submitting your entry!
Entries close at 11:59pm AEDT on Tuesday, 20 December, 2022.
Good luck!
---

BEFOREPAY TIP

Plan your upcoming expenses now with Beforepay's free budgeting tool, only in the Beforepay app!
Because we sync with your bank account, our smart tech can whip up a personalised budget for you based on your income and spending habits.
Want complete control? You've got it! You can also choose which budgeting categories to turn on or off, and how much you want to allocate based on your list of upcoming expenses, to help you stay on track with spending only what you can afford.
We'll also show you your upcoming bills, so you can take all your expenses into account when planning your budget and review how much you're paying on your utility bills to see if it's time for a change.
These are only predictions based on your past bills, so always make sure to check your statements from your providers for the most accurate payment details to avoid paying any fees and interest.
See how your money moves with Beforepay.
---
INSIGHTS



Daily spending back up in November after Black Friday
Economic uncertainty that drove earlier bargain hunting and cost saving did little to slow spending last month as sales events such as Black Friday and Cyber Monday drove the daily cost of living back up to $60.48 in November.
Key insights from the November 2022 Beforepay Cost of Living Index:
Shopping season has started, as the average daily spend for shopping jumped 7% from $7.24 in October to $7.74 in November.


Black Friday and Cyber Monday deals may have helped consumers upgrade their homes as durable shopping for larger items like furniture increased by 2.7% in November.


The focus was on shopping in November as daily spending decreased for groceries by 0.4% and for restaurants and dining by 1.2%.


Daily spending on petrol increased by 3% from $8.10 to $8.34, likely an ongoing effect of the removal of the fuel tax exemption.


It's looking like an even better time for consumers to consider switching utility provider. An annual comparison of utility expenses shows daily spending for utilities increased significantly by 16.9% from $4.98 in November 2021 to $5.82 in November 2022, reflecting the impact of rising costs associated with importing resources and energy production.
*Note: Data is derived from Beforepay data, not adjusted for seasonality. It is provided for general information only and should not be relied on. See full disclaimer here.
---



WE 🧡 OUR CUSTOMERS