Daily spending jumps 25% in August
Found some useful tips and tidbits in the first edition of The Beforepay Beat? We've got more!
Daily spending jumps 25% in August to $83.27.
Why are Aussies choosing Pay On Demand™ over credit cards?
Finances stressing you out? Here are 3 steps to help you manage.
Did you know you can repay early and instantly with PayID in Beforepay?
Share your story: How has money impacted your mental health?
INSIGHTS: August 2022 Beforepay Cost of Living Index
Daily expense figure jumps 25% from July to $83.27 in August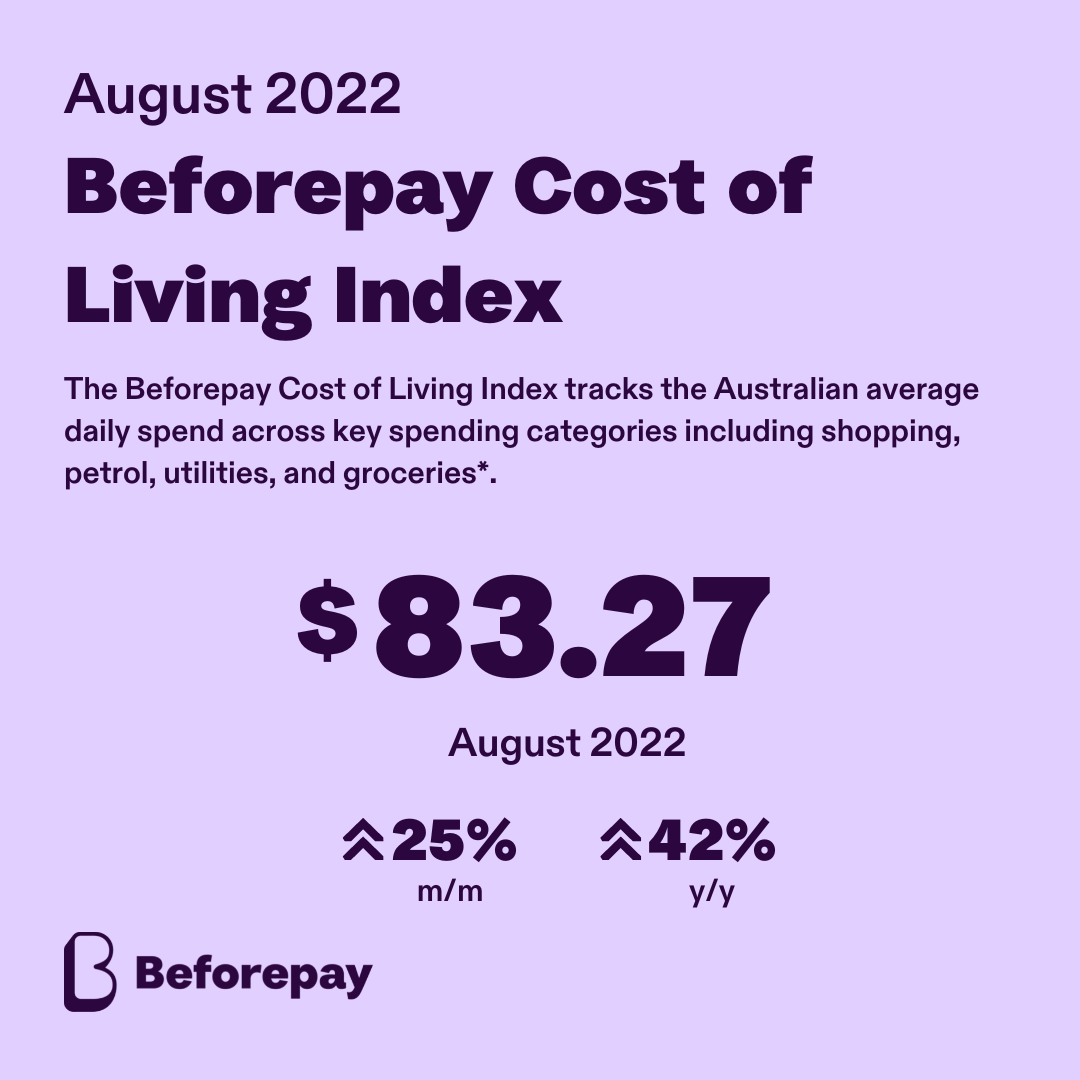 You've probably heard the words "inflation" and "rising costs" thrown around more times than you can count recently. But what does that really mean for us day-to-day?
The Beforepay Cost of Living Index is a snapshot of the daily spending behaviours for the average Australian. It takes into account several household expense categories, and any notable monthly and annual trends or changes.
So how did people spend in August 2022? Check out these key insights:
Daily spending increased from $66.46 in July 2022 to $83.27 in August 2022. Over the last year, this figure has increased 42.3%, from $58.50 in August 2021.
Shopping had the smallest percentage increase of 12.4% from $9.39 per day in July 2022 to $10.55 in August.
Spending on groceries increased 18% from $15.96 in July 2022 to $18.89 in August, in part due to continuing supply chain issues.
Spending on petrol increased by 22% from $8.71 per day in July 2022 to $10.63 in August as supply issues continue to push up oil prices.
How does your spending compare? Do any of these spending trends ring true for you?
See more insights and find out more about the Beforepay Cost of Living in our latest update here.
*Note: Data is derived from Beforepay data, not adjusted for seasonality. It is provided for general information only and should not be relied on. See full disclaimer here.
FUN FACT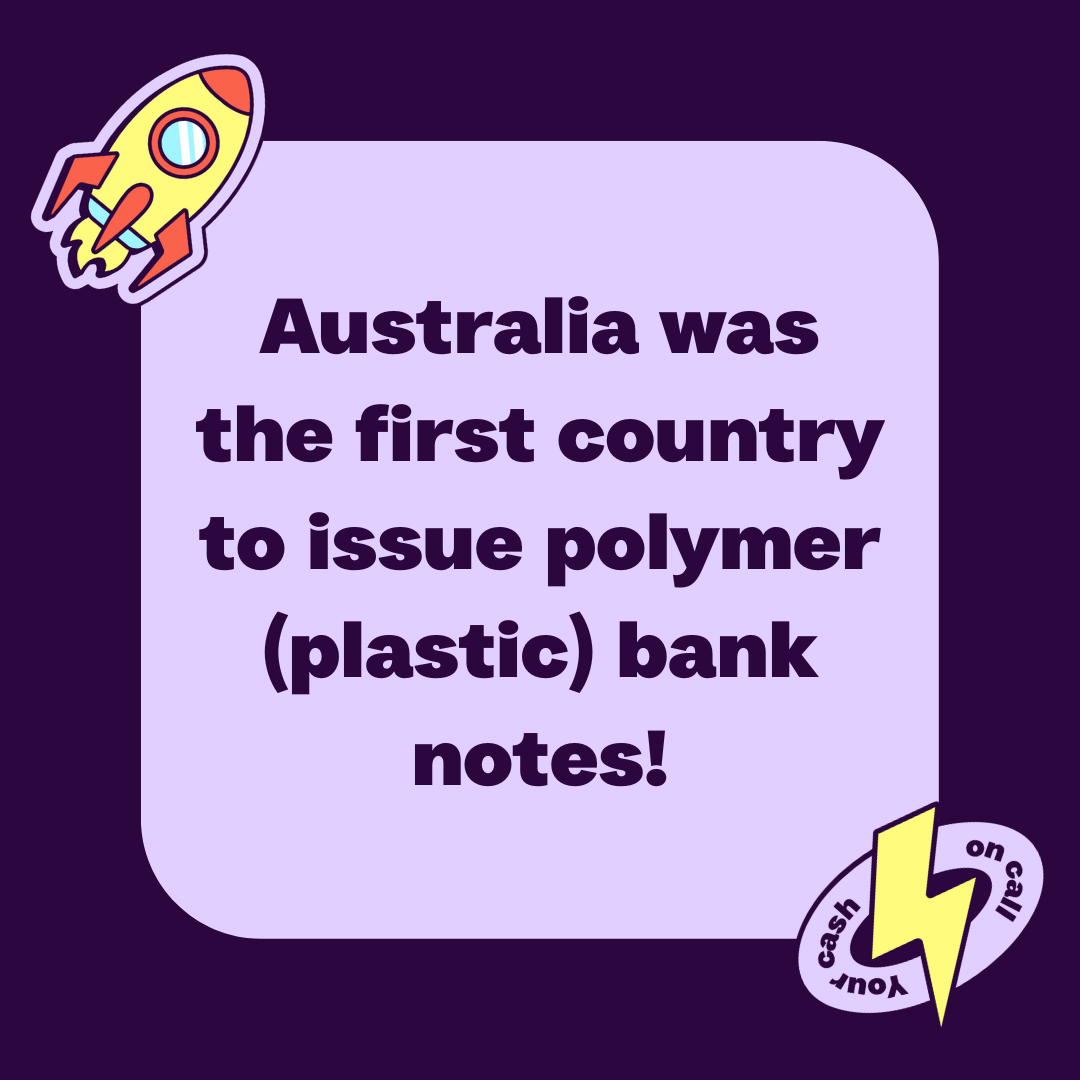 It's true! We're an inventive bunch who issued the first full series of polymer banknotes between 1992 and 1996.
The idea was born in January 1988 when the Reserve Bank of Australia and the Commonwealth Scientific and Industrial Research Organisation (CSIRO) developed technology to create a $10 polymer banknote commemorating the bicentenary of Australia.
And it wasn't just for looks! Some benefits of polymer banknotes include durability, better hygiene, and greater security against counterfeiting.
MONEY MANAGEMENT: Pay On Demand™ vs Credit Cards

Why are more people turning to Pay On Demand™?


Both Pay On Demand™ and credit cards offer simple and convenient ways to manage temporary cash flow challenges, right?
Technically, yes.
But there are some differences that actually allow people to save more with Pay On Demand™. We've done the comparison so you don't have to!
Limits & responsible spending
You can make multiple purchases with a credit card, but it comes with a risk of revolving debt. The national debt on credit cards as of June 2022 is estimated to be $18.2 billion (

Finder 2022

).





Pay On Demand™ provides a smaller limit and allows only one Cash Out at a time, avoiding instances of revolving debt.



Fees & interest
Credit card costs add up. For instance, a cash advance via a credit card costs 2-3.5% of your transaction, plus a cash advance rate charged daily at 19-25.99% p.a. (

Finder 2022

).



Pay On Demand™ with Beforepay is transparent, charging only one fixed 5% transaction fee and 0% p.a. interest.



Support with managing debt


A balance transfer can help you pay down your credit card debt but can cost more in interest if you don't pay your full balance within the term.

In 2018, 30% of consumers increased their debt by 10% or more after a balance transfer

(

ASIC 2018

).





Pay On Demand™ avoids instances of revolving debt by requiring you to repay your advance (plus 5% transaction fee) before using the service again.
Read our comparison to find out more about how Pay On Demand™ and credit cards compare, so you can make sure you choose the best short-term cash solution for you.
*Based on a survey of 1,100 Beforepay customers in February 2022.
DID YOU KNOW...
You can make a repayment via PayID/Osko in your mobile banking app (subject to your bank's availability) as soon as 2 days after you Cash Out, and if you do not have any payments pending.
You'll just need to make sure you enter the Beforepay PayID email and your unique reference number in both the Description and Reference fields. Payments with missing or incorrect information will be declined. If the transfer is successful, your account should reflect the payment within minutes.
To view your PayID payment details, simply tap on the 'Repay early' button on the Cash Out screen.
See our help article for more details.
MONEY TIP: Navigating financial stress
3 things you can try to help you manage financial stress

Financial stress can look and feel different for everyone. Being able to recognise when you are feeling financially stressed is the first step to getting on the right track. The next is doing something about it!
Here are some things you can try.
Create a budget that works for you
Breaking down your income and expenses is a good way to understand and manage exactly what you have to spend and where your money is going. This can help you take back that feeling of control when it comes to your finances.


Make one financial goal over a 6-month period
It can be overwhelming to have too many goals. Focus on one long-term goal that's important to you, like saving for a holiday, and let that motivate you to keep moving forward.


Meditate for 10 minutes every day
This isn't just a trend! Finding as little as 5-10 minutes a day to focus on your breathing can actually help you develop a clearer mind that will help you organise your finances better.
Learn more about how you can put each of these tips into practice.
TEAM SPOTLIGHT: Meet Noeleene

What's your role at Beforepay?
I'm a Content Manager at Beforepay and my role is to support our customers' financial knowledge and wellbeing with interesting content across our different channels - blog, email, social, you name it!
Why did you join Beforepay?
I wanted to be a part of an organisation that was innovative, disruptive and committed to helping people. Beforepay is all of that, and I love that we offer so many different and practical ways to help people manage their money - not just through Pay On Demand™, but also through things like our money tips and budgeting tool.
How do you stay on top of your finances?
I dedicate about 30 minutes every payday to budgeting. I split my pay across different buckets, like living expenses, groceries and fun (we all need it!), so I know exactly what I have to spend. I also put any left over budget I have from last payday into a rainy day savings account. I find that putting in the time upfront saves time and pays off later!
SHARE YOUR STORY: Money and mental health


AMP's 2020 Financial Wellness Report showed 1.8 million Australian workers were experiencing prolonged financial stress.
Understanding how money can impact mental health and wellbeing is important to identifying positive ways to manage money and feel financially confident and in control.
To help Australians manage their financial wellbeing we're looking for real stories and tips to share from the Beforepay community.
If you have a story about how money has affected your mental health, and the things you did (or are doing) to overcome it, please submit your expression of interest here.
WE 🧡 OUR CUSTOMERS